7 Things to do in Savannah with Dad
Updated Jun 14, 2018
Savannah Dream Vacation Rentals has the vacation rental home where dad will love to stay for Father's Day 2018.
Oh dad! You're always there for us. We know it, you know it. Let's get you out of the house!
If your dad deserves a Father's Day vacation in Savannah, consider a Savannah vacation rental home from Savannah Dream Vacations. He can stay in an overpriced, overbooked hotel, or he can relax in a spacious, historic home.
If your dad is a history buff, a Father's Day getaway to Savannah will be right up his alley.
Savannah has the distinction of having the largest historic district in the entire country!
Being founded in 1733 as the capital of the colony of Georgia, makes Savannah part of the original 13 colonies.
1. Battlefield Memorial Park
Is your dad interested in the Revolutionary War? At the Battle of Savannah in 1779, 3 armies with forces numbering over 8,000 troops fought here for control of the city. Wanna see where it all happened? Visit Battlefield Memorial Park.
2. Colonial Park Cemetery
Established in 1750 (we think), and enlarged in 1789 (we know), Colonial Park Cemetery is the final resting place for many of the earliest Savannah citizens. Among the "old-school" Savannahians buried here is Button Gwinnett, one of the signers of the Declaration of Independence, who died in 1877. Also, try to find the tombstone of a man who was shot in a duel in 1815. While it was still legal, many duels took place inside the grounds you will explore.
Yellow fever decimated Savannah in 1820, and the evidence is on display in the tombstones throughout Colonial Cemetery.
Dads interested in the Civil War will be interested to know, that the cemetery was already full when Fort Sumter fell. But when Union troops occupied Savannah, they took over the grounds of Colonial Cemetery. Look to see if you can find evidence that federal troops changed the dates on some of the tombstones: like the man who was born 1000 years before his father, or the person who lived to the ripe old age of 544.
3. Old Fort Jackson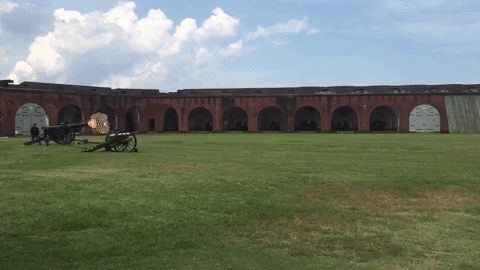 Leave the comfort of your Savannah vacation rental, hop in the car, and take a short drive to Old Fort Jackson.
The oldest brick fortification in Georgia that still stands, Old Fort Jackson is a National Historic Landmark, with awesome views of the Savannah River.
Does dad like cannons? They fire cannons every single day.
The fort was constructed between 1808 and 1812 to protect the Savannah River from the French or British, and saw action in the War of 1812.
During the Civil War, the fort operated as the Confederate Headquarters for Savannah River Defenses. Interestingly, it was once shelled by a ship commanded by an escaped slave named Robert Smalls.
When General Sherman's Union forces arrived in 1864, the Confederates left the fort and escaped across the river to South Carolina.
4. River Street
If your dad would rather party in the now than re-live the past, there's plenty to do in Savannah.
Take a stroll on River Street's cobblestones, and stop in one of the bars to grab a to-go cup. Any bar will do, you'll see tons, and they'll all let you leave with an adult beverage.
There's live music coming from everywhere, and the impromptu street performances can be some of the best.
5. City Market
In addition to River Street for partying, dad might like to eat and drink in Savannah's bustling City Market. You can have anything from pizza to escargot. Or eat at Paula Deen's restaurant. Every other door is a restaurant, shop, bar, or club.
Live music abounds.
To-go drinks are encouraged.
6. The Telfair Museums
If dad is looking for a more quiet afternoon, the Telfair Museums have 3 different locations:
The Telfair Academy, built in 1818-1819, showcases nineteenth and twentieth century European and American art. You'll find paintings and sculptures, and even the building itself is an architectural treasure.
The Owens-Thomas was built in 1816-1819, and is a National Historic Landmark. This house museum features paintings, art, and furnishings dating back to 1750. Here you can visit the original carriage house, which showcases one of the oldest urban slave quarters still in existence today.
The Jepson Center is just crazy modern compared to her sister properties. The design was meant to bridge the museum's future to its past, and was completed in 2006. On display at the Jepson Center are modern art from all over the world, digital art, interactive exhibits, and installations rotating from everywhere imaginable. The original "Bird Girl" statue lives at the Jepson, but has a full time security detail of her own!
7. Tours in Savannah
Savannah has every imaginable tour on offer. Dad can ride in a hearse looking for ghosts in the squares of the city, drink a beer and pedal a moving bar around the historic district, ride in a horse drawn carriage, or just plain walk.
We have ghost tours, movie tours, bar tours, architecture tours, tours through the squares, tours of the churches, tours of everything! Dad, if you like it, Savannah has a tour for it.
Bonus: Relax in Your Vacation Rental
You really don't have to do anything dad. It's all taken care of when you decide to book a private vacation rental with Savannah Dream Vacations. You'll have privacy, TV's, a full kitchen, couches, porches, and views, views, views.
We're all Savannah locals at Savannah Dream Vacations. We're just a phone call away if a problem should arise, and we can all give you a local's view on what to do on your vacation to Savannah.
Call us at 912-713-7278, contact us to find out more, or to book your Savannah vacation rental, now!
508 E. Waldburg Bedrooms: 3, 1 King, 2 Queen Sleeper sofa: 1 Bathrooms: 2 Dog Friendly Reserved Parking: 2 X-Mas in SavannahX-Mas in SavannahX-Mas in
Read More »
Oglethorpe House Bedrooms: 2, 1 King, 1 Queen Futon sofa: 1 Bathrooms: 2 Dog Friendly Metered Parking Previous slide Next slide Description Amenities Location /
Read More »
There are 52 weekends in a year. A weekend in Savannah is a great way get the most out of yours! History, parks, squares, shopping, nightlife: it's all here, and it's all around the E Waldburg House.
Savannah Dream Vacations gave us our pick for a recent Savannah getaway weekend, and we were delighted by the 506/508 E Waldburg Street vacation rental.
Read More »